1. From within Calero.com, go to SaaS Management > Applications.
2. From the Discovered tab, select Add Application.

3. Select Okta SSO.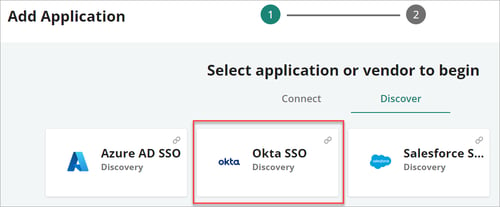 4. From the API tab, you will see the following screen.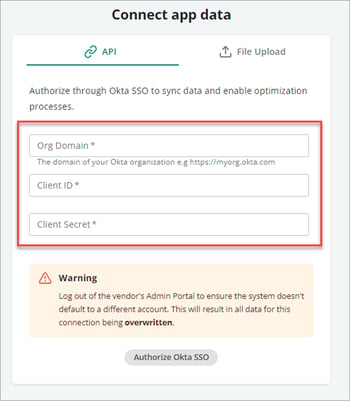 5. You must now go to the Okta Admin Portal and Add an API Service Integration. This process will authorize SaaS Expense Management with Okta and get the information needed for these fields.
In the Admin Console, go to Applications > API Service Integrations.

Click Add Integration and select Calero - SaaS Expense Management from the list.

Click Next, then Install & Authorize.

Note your client secret value, click Done.

Note your Okta Domain and Client ID.
6. Return to Calero.com and enter the following fields based on the information from Okta:
Org Domain – Okta tenant (organization)
Client ID
Client Secret
7. Select Authorize Okta SSO.
8. SaaS Expense Management will then begin fetching Sign In event log data from Okta (Applications, Users, Authentication events) for the Okta Domain specified.
Supported Okta API Scopes
The integration only requests the "Systems: read about system log entries" (okta.logs.read) scope. This integration is designed to allow clients to "Discover" the applications being used in their environment by referencing the Single-Sign On audit logs. We retrieve the minimum information to meet this requirement; the application name, authentication email and authentication date/time.